Social Media Marketing Services
Utilizing AI-Powered Analytics to Understand Customer Sentiments and Optimize Your Social Media Strategy.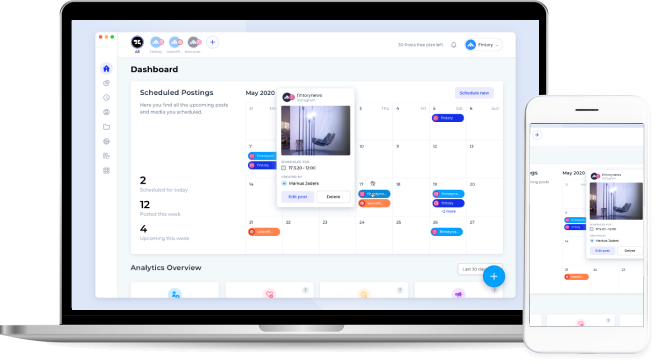 Ready to Get Started? Contact Us for a Free Consultation Today!
Social Media Management Expertise
It's easy to reach out to customers through Social media. That's because social media platforms reach 80% of all Internet users in the USA. Even more appealing, most Internet users purchase products or services from a brand they follow on social media platforms like LinkedIn, Facebook, Instagram, YouTube, alongside a variety of others.
We leverage this sales potential through marketing and management services, campaign management, and even niche services that may only apply to your business. Whether you're looking to increase the likes or follows of your social media page or need a targeted campaign to generate revenue and new clients, we have you covered.
We are strategists, marketers, researchers, and developers who craft custom digital experiences for startups, eCommerce companies, energy, moving and financial services, nonprofit institutions, and brands.
Posts per network per week ⓘ
Hi-res, relevant photos ⓘ
Error-free text captions ⓘ
Text characters per post ⓘ
Dedicated Content Specialist ⓘ
Dedicated Account Manager ⓘ
Custom, SEO blog post (1 per mo.) ⓘ
3 Posts per network per week
500 - 700 Text characters per post
Dedicated Content Specialist
Dedicated Account Manager
Custom, SEO blog post (1 per mo.)
5 Posts per network per week
500 - 700 Text characters per post
Dedicated Content Specialist
Dedicated Account Manager
Custom, SEO blog post (1 per mo.)
most popular
Presence Premium
5 Posts per network per week
500 - 700 Text characters per post
Dedicated Content Specialist
Dedicated Account Manager
half posts Custom branded images
500 - 700 words Custom, SEO blog post (1 per mo.)
5 Posts per network per week
500 - 700 Text characters per post
Dedicated Content Specialist
Dedicated Account Manager
all posts Custom branded images
1000+ words words Custom, SEO blog post (1 per mo.)