Ready to get started? Contact us for a free consultation today!
Aside from word-of-mouth recommendations, 97% of your new business comes from internet searches conducted by your potential patients. With a high-ranking website working for your practice 24/7, you invest powerfully and practically in your practice's future.
Dental SEO is the key to leveraging this advantage; optimizing your website is one of the best investments you can make.
Dentists' SEO techniques center on improving your site's visibility and credibility to improve its ranking on search engines. Best practices in SEO for dentists include improving the visitor's experience on the site and ensuring it adheres to performance recommendations set by Google, Yahoo!, and Bing.
The team at NetConnect Digital Agency leverages their expertise in dental SEO marketing to make your website:
Dental SEO internet marketing provides a cost-effective alternative to pay-per-click marketing for dentists. Steps that you take today have long-lasting effects in driving organic traffic to your site. Your site attracts increased attention naturally, and your return on investment extends well beyond your initial campaign.
At least, it succeeds when you partner with the right team. Understanding the nuances of dental SEO is challenging and time-consuming when you must run a practice. Partnering with NetConnect Digital Agency (NCDA) allows you to focus on your patients' in-person experiences while we handle their online journeys.
Let us help you to build your business. Being the runner-up in the search engine optimization game is a losing proposition. With every position you drop in the results, click-throughs drop significantly, making vying for the top spot the best way to retain your competitive advantage.
Achieving the top pole position is challenging but maintaining it can be more so. You cannot take chances since regular updates to search algorithms can decimate traffic overnight. It's essential to use a viable long-term dental SEO strategy.
As your local Google partner with a proven track record, NCDA will boost you to the top spot and keep you there.
NCDA's Dental SEO Strategies
As a national leading dental SEO company, we transform your website into your crowning achievement by adopting a multi-pronged approach.
Optimizing Your Google My Business Page
GMB listings are a free tool that Google provides to improve your site's visibility. One of our dental SEO services is to optimize these pages, driving more traffic to them and more leads to you.
Another success step is to regularly activate your pages with regular posts and updates that keep patients coming back for more. We handle both tasks for you.
Building local citations and keeping them up to date is another critical step in effective dentistry SEO. These citations make it possible to expand your digital presence to third-party sites like Apple Maps, Facebook, and Yelp.
These listings put your practice's name, phone number, website link, and address in front of qualified leads in your local area. People needing a new dentist in your town will actively seek you out; meanwhile, you save on advertising.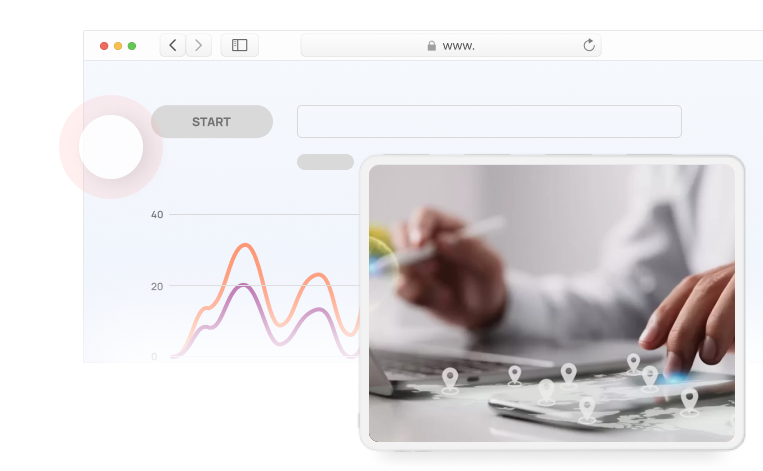 Location-Based Keyword Targeting
Ranking highly in an international search doesn't do your practice much good. Location-based keyword targeting helps the search engines understand where your business is. The search engines can then, in turn, recommend your website to people looking for dentists in your area.
Review Management and Ratings
If you ask a dental SEO expert in the USA for one of their top SEO tips, it would be to stay on top of review management. Maintaining a stellar review profile builds fantastic credibility with potential patients.
Patients vetting your practice look at how you respond to negative reviews and positive ones. Based on these responses, they assess your practice's responsiveness to their needs.
Businesses often make the mistake of focusing only on negative reviews. However, ignoring the positive ones can be a more significant error. Satisfied patients may feel underappreciated, and potential patients may feel you'll ignore them as well.
With our review management service, we build your ratings and manage the comments. You impress your patients with your skills, and we'll ensure that you maintain a sterling reputation online.
Why Choose NetConnect as Your Dental SEO Agency
The NetConnect dental SEO agency team provides you with a free SEO report. This information helps you understand your website's current status and what improvements to make. It also establish3es a starting point for our dental search engine optimization strategy.
When you partner with us, we assign you a team member specializing in the best SEO for dentists. They'll conduct a complete site audit and discuss your traffic and lead generation goals. They then present your customized dental website SEO plan to help you advance your website to an ideal spot.
This strategy includes optimizations to improve your user experience, make your website more attractive to search engines, and increase your conversions. As your partner, your success is critical to our own; therefore, we pull out all the stops.
We'll then spring into action to implement your plan. We monitor your results and finetune your strategy to boost your results as we progress. We are so confident that we offer the best dental SEO program that we guarantee you a better rank on Bing, Google, and similar search engines.
We also ensure that your site attracts relevant traffic that translates to more feet through your door. Our goal is to help you achieve the top spot in local searches so that you can achieve the best outcomes and beat your competitors.
As certified Google partners with a well-established track record and sterling reputation, we're in the ideal position to produce results. Our campaigns are highly effective and affordable, helping you maximize your advertising budget.
We take the guesswork out of SEO for a dentist to allow you to focus on dentistry. Call us today, and let us do what we do best so that you can deliver your best.
Click here to learn more about other Dentistry marketing services we offer: